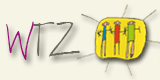 Fundacja im. Brata Alberta

Warsztat Terapii Zajęciowej
w Chrzanowie


"Być dobrym jak chleb..."

About us
We have been active for 15 years.

A workshop of occupational therapy in Chrzanow on the basis of Brother's Albert Foundation was established on January 21, 1995. We function on belhalf of and thanks to Tadeusz Isakowicz-Zaleski, a priest, who is a chairman of the National board of Brother's Albert Foundation settled in Radwanowice and thanks to the Regional Board of this foundation.

Our institution takes care of 35 mentally and physically disabled people, who live in a district of Chrzanow. Therapy takes place in 7 studios, such as: tailoring-weaving, music-theatre, art, household, gardening, carpentry and re-education.

Apart from activities in those studios our each member takes part in different corrective and physical activities, which are held in a rehabilitation gym and outside.

Occupational therapists' work is assisted by a psychologist and a rehabilitation therapist.During the work and stay in our establishement our wards learn the skills connected with their social environment and receive some vocational training.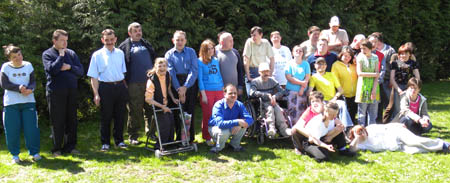 We also take care of cultural development.

Travelling is our big passion. We already visited Trzesacz, Wysowa, Krynica Gorska, Malbork, Czorsztyn, Kolobrzeg, Bukowina Tatrzanska, Krynica Morska, Rabka, Ludzmierz, Darlowo, Czestochowa, Kalwaria Zebrzydowska, Lichen, Kurnik, Niepokalanow, Wroclaw, Torun, Szczyrbskie Pleso. Moreover, we go to the cinema, the swimming pool and we have horse-riding therapy lessons.

We have in our centre a very active theatre and music group called "Perelki". The group presents their performances during different meetings, such as Christmas and Easter or St. Brother's Albert Day - a patron's saint celebration.

Our group performed at National Theatre and Music Festival of Disabled People's Creativity "Albertiana" 2009, Art Meetings in Upper Silesia in Ruda Slaska, Artistic Engine in Chrzanow – there we won 1 prize, Music and Theatre competition on the occasion of St. Brother's Albert Day in Radwanowice – 1 prize, X National Theatre and Music Festival of Mentally Disabled People's Creativity – II prize, and at many other artistic performances.
Our members also have a lot of music inclination and abilities. Grzegorz Jamroz, Jolanta Slosarz, Piotr Warzecha, Piotr Kurzak, Łukasz Gołas, Małgorzata Woziwoda, Jakub Doległo can boast of their vocal performances. This kind of artistic presentation give our wards a lot of joy and satisfaction and makes them to be more self-confident, not only on the stage, but in everyday life as well.


Brother's Albert Foundation
"Over 100 years ago an amazing man lived in Krakow. He left everything he had possessed and became poor to give hope all those homeless, poor and addicted people. He chose a door of a shelter in a distrct of Kazimierz in Krakow, where he started his new life with his friends and wards altogether. This man was Adam Chmielowski, known as St. Brother Albert. The heritage of goodness and charity has been cultivated for 21 years in Poland by Brother's Albert Foundation. Since the beginning this Foundation has been the result of people's hearts and engagement. And since its settlement it has had the clear aim – to help people who are mentally disabled".
Soon after that, other similar institutions were established all over the country.
We can always count on our friends and benefactors' benevolence.
Among the others there are:

Chrzanów County District
Town Hall in Chrzanow
County Family Help Centre in Chrzanow
A Swimming Pool "Cabanska Fala" in Chrzanow
MOKSiR Chrzanów
WOPR Chrzanów
ZHP Chrzanów
Bank Spółdzielczy Chrzanów
Bank Zachodni WBK o/Chrzanów
Rafineria Trzebinia S.A.
Towarzystwo Oswiatowe Ziemi Chrzanowskiej
Wyzsza Szkoła Przedsiebiorczosci i Marketingu w Chrzanowie
Muzeum Ziemi Chrzanowskiej
Szpital Powiatowy w Chrzanowie
Miejska Biblioteka Publiczna w Chrzanowie
SOS Chrzanów
Nadlesnictwo Chrzanów
WORD Tychy
Kampania Weglowa S.A.. Katowice
Fundacja Energetyk Trzebinia
Zespół Szkół Nr 1 z Klasami Integracyjnymi w Chrzanowie
Szkoła Podstawowa Nr 3 Chrzanów
Fabryka Parafin "Naftowax" Trzebinia
Firma "Elimex" s.c. Trzebinia
Firma "Dan cake" Chrzanów
Zakład Cukierniczy Jan Małecki
Knapik Tadeusz, Knapik Sławomir S.J. Alwernia
"Kamir" sp. j.
Liceum Dla Pracujacych Chrzanów
Hurtownia "Astir"
Stołówka Szkolna – Elzbieta Mietkiewicz
Władysława i Jakub Mlostek – Piekarnia Chrzanów
Firma Budowlana M. Kawala – Karniowice

Our address:

Brother's Albert Foundation
A Workshop of Occupational Therapy in Chrzanow
Sokoła 8 Street, 32-500 Chrzanów
tel: 501 899 942 oraz 32 623 49 70
e-mail: funba@wtzst-chrzanow.pl
www.wtzst-chrzanow.pl

Voluntary donations can be sent to:

BPH O/Chrzanów
18 1060 0076 0000 3300 0024 5548
Our Foundation is a non-profit organisation
support us by your 1 % tax donation
Brother's Albert Foundation
KRS 0000028246